Help us make DevTools Tips better! Fill out this survey to tell us more about your DevTools habits and frustrations.
Convert font property units
Font CSS properties such as font-size, line-height or letter-spacing can be expressed in multiple different length units (like many other CSS properties).
Firefox, Chrome and Edge allow you to convert values between these units easily.
In Firefox

Find an element in the Inspector panel that has font properties which you'd like to change
Select the Fonts sidebar tab
Use the unit drop-downs next to Size, Line Height or Spacing to convert the current value to another unit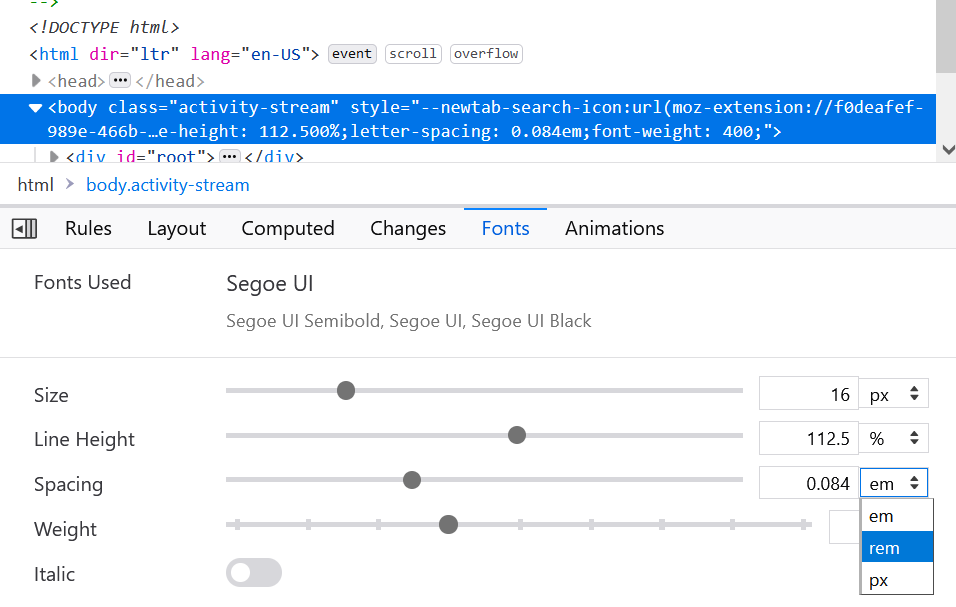 In Chrome or Edge

You first need to enable the Fonts editor experiment

Go to the DevTools settings (F1)
Go to the Experiments tab
Check the "Enable the new Font Editor tool within the Styles pane" box
Re-start DevTools

Find an element in the Elements panel that has font properties which you'd like to change
Click on the Aa icon in the Styles sidebar, in the CSS rule that contains the property you want to convert
Use the unit drop-downs next to Font Size, Line Height, Font Weight or Spacing to convert the current value to another unit